Student Wins PIP Award
By Michael Colkett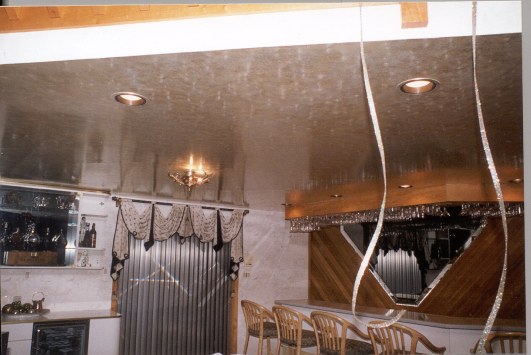 I would like to show some appreciation and share my delight about winning an award. My company Michael Colkett Painting in Sellersville, PA was awarded 1st place in the National Painting and Decorating Contractors of America's Picture it Painted Contest for Faux Finishes in category 1 for companies grossing under $500,000 per year. The national competition is held each year and the winners were announced at this year's National PDCA Convention held in Palm Springs,CA .
We completed very intricate work in five areas of a home in Newtown, PA, which included the following:
In the foyer and hallways we applied a faux limestone block with Trompe L'Oeil raised moldings. I learned these techniques from Pierre Finkelsteins book Art of Faux and in a Trompe L'Oeil class at Ross' studio. Also in the foyer area I painted a Trompe L'Oeil niche with a statue of Canovas "Venus Italica" into the limestone, using techniques I learned in a class on proper perspective use in Trompe L'Oeil from Patrick Kirwin of Alexandria, VA. Patrick taught in the past at SOG.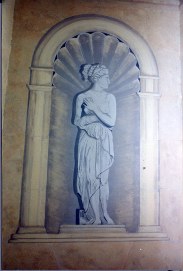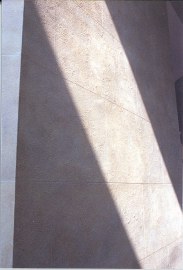 In the dining room we ebonized four wood columns and applied mica powders to the capitols and then toned with casein paint.
On a young boy's bedroom off the hall, we applied a broken color frottage finish on the walls and finished off the ceiling with a Trompe L'Oeil cloud scene.
In the loft and family room areas I blended the radiators right into the wall matching very intricate wallpaper onto numerous radiators.
We also gilded a 400 square foot bar ceiling with silver leaf with cupric nitrate chemical patination, a technique I learned from Ross O'Neal Artists & Gilders Faux Studio.
Ross first introduced me to the SOG. I had taken numerous classes with him and he thought it would be a good idea for me to attend the SOG annual conference held in Philadelphia that year. Boy was he right! I learned so much there, mostly that I loved gilding. I try to incorporate gilding into a lot of my decorative painting work. I suppose like most things, I'll learn more as I do more. I learned some important lessons gilding the silver leaf ceiling.
We first prepared the ceiling doing all the patching that was necessary. I followed it with three coats of paint. With the first day's work completed, we sized the area for the next day's work. We ran into a problem while cutting in the size to the finished leaf area. Some size flowed over to the new leaf. A well-meaning worker gently wiped it with thinner, which slightly changed the area, but not immediately. I know now there are numerous ways to handle this so it does not create a problem. Of course as luck would have it, it was in the middle of the ceiling area. We finished laying the leaf, skewed and burnished and applied the chemical patination followed by the finish.
I let a several weeks go by hoping the spot would blend in but it didn't. I tried to repair the spot. Bad idea! The new leaf would never catch up with the old leaf in color. So I asked Ross if he would take a look at it hoping he would be able to tone it in. We decided to regild the ceiling because he felt that with the use of silver leaf on the ceiling and how silver leaf tarnishes the time between the original gild and the touch up it would be difficult to tone it well enough to be a job I would be proud of. So Ross and I regilded the whole ceiling and it turned out beautiful.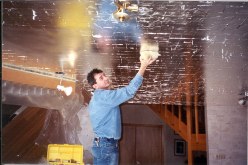 This gilding experience gave me much more confidence for the use of precious metals. I just gold-leafed an elegant dining room ceiling, used copper leaf on raised moldings of a home theater ceiling bordering faux leather, and did doors in the same treatment, among other gilding work.
This award made me feel very good, and I really appreciate the SOG, its conference teachers and lecturers, Ross O'Neal and his school, and the openness and sharing of knowledge and techniques of members of the International Decorative Painting Salon.