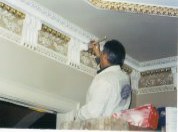 In one week learn to enhance your professional painting skills. Boost your EARNING POTENTIAL and broaden your market place, while making your own sample boards of the hottest finishes on the market .
THIS COURSE IS MORE COMPREHENSIVE THAN OTHERS ON THE MARKET TODAY!
All of a sudden why is it the rage? Whatever the term you want to use broken color techniques or faux finishing it isn't something new. Actually, it's been around for hundred's even thousand's of years. One thing for sure it is not a fad, that's here today and gone tomorrow, it is here to stay. We are returning to the arts, reentering a new period of renaissance. We are tired of plain walls. Pick up any magazine and you will find Decorative painting. Don't be left behind. Cash in now with the finest training available.
We offer training in wood graining, marbling, wall glazing, gilding, trompe l oeil, stain glass, chemical patination, mural painting join us now to improve your future. We are not a product based school. Our classes cover all types of media and are taught in the European tradition.